June 2019
| Mon | Tue | Wed | Thu | Fri | Sat | Sun |
| --- | --- | --- | --- | --- | --- | --- |
| | | | | | 1 | 2 |
| 3 | 4 | 5 | 6 | 7 | 8 | 9 |
| 10 | 11 | 12 | 13 | 14 | 15 | 16 |
| 17 | 18 | 19 | 20 | 21 | 22 | 23 |
| 24 | 25 | 26 | 27 | 28 | 29 | 30 |
Calendar


Well, of course that I'm not gonna talk about games like Runesuck, Travian, Webgame, etc...
I'll review here some games I like and think that they are good and you can do the same....
I'll start with a game that is not that known.... it was the first game I've ever played...
Quadrax
Developer(s): Ultrasoft, Cauldron
Artist(s): David Durčák, Marián Ferko
Platform(s): ZX-Spectrum, PC
Release date: 1994
Genre(s): Logical, Puzzle
Gameplay:
So, basically you control two people on screen and you are trying to reach a certain point... that point is indicated by two arrows on the ground...
That sounds easy, but it can be pretty hard.... because you have to reach that point by moving blocks, using teleports, pressing switches.... using lifts..... and of course, your brain too....
As for another thing... your "heroes" can die... for example because they fall from a high place or because they are smashed by a block.....
And the last one thing... there are arrows.... you can use them to reach higher places, or lower ones... but some of them have only one direction... so you may reach one place... but you can't go back....
That may happen too if you step on a disappearing ground.... so you'll be restarting a lot...
Story:
This game, trust me or not, has a really good story...
It's about those two people... they are trying to find a brother of one of them.... he, together with his friend, went to Egypt to find a certain place, temple of Amon-Re, that appears only in 4-year intervals....
He found it, but was never seen again after that....
So, they calculated the place where the temple should appear and went there....
And of course... they found it and are trying to reach the top to reveal what lies behind the disappearing and appearing of the temple and to find the brother....
PS: This is only the story for the first version for PC... there are other games with the name Quadrax (like II, III, IV, etc..) after this with the dif. story and graphics....
And one thing more, I have never played the version for ZX and I will never play it..... so don't ask me about it...
Screenshots:
Quadrax for ZX-Spectrum:
Quadrax I: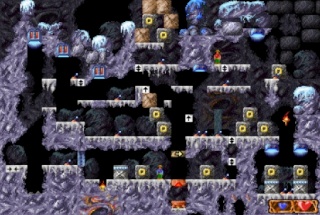 Quadrax II:
Quadrax III:
Quadrax IV:
Quadrax V:
_________________
NOFX - Franco Un-American:
Spoiler:
M4DN3SS Moderator




Posts

: 300


Join date

: 2009-05-27


Age

: 26


Location

: You don't wanna know....



well i do play them when i m bored but not very often
Militia




Posts

: 76


Join date

: 2009-05-28



Almost all of the game that I play are freeware but that doesn't mean I always play it.It can be quite fun to play it sometimes but I always feel bored in the middle and stop playing it.
_________________
M4DN3SS Moderator




Posts

: 60


Join date

: 2009-07-31


Age

: 29


Location

: Voodoo Island



Well..i never played them,but if i heard there's good games,then why wouldn't i play?!....so i think i'll play it someday.since my ps2 is not working anymore

Militia




Posts

: 79


Join date

: 2009-07-30


Age

: 31


Location

: In my own world





Similar topics
---
Permissions in this forum:
You
cannot
reply to topics in this forum